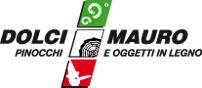 HOME
Welcome to the Valley of Pinocchio.
Journey in the workshop of the craftsman that for the last fifty years has kept alive the myth of Collodi.
The workshop of the modern master 'Geppetto' is located at Mazzoleni, a fraction of Sant'Omobono Terme. It is here, among the mountains of Bergamo, that Mauro Dolci continues the tradition of his father, Raffaele, realising the famous puppet of wood that was created for the first time more than 50 years ago, when Raffaele Dolci after having leafed through a few books illustrating the history of the character of Collodi, put himself to the lathe trying time and time again, until successful, to recreate Pinocchio. And, with the exception of several slight modifications, the very same puppet that is produced today with the hands of his son Mauro.
Splendid puppets that are realized following the ancient art of the woodmill, a demonstration that the battle against mass-produced products can be fought and won, and which are sold in dozens of countries in the world where the character created by Carlo Collodi has become very famous thanks to the more than 200 translations into different languages.